Yoshi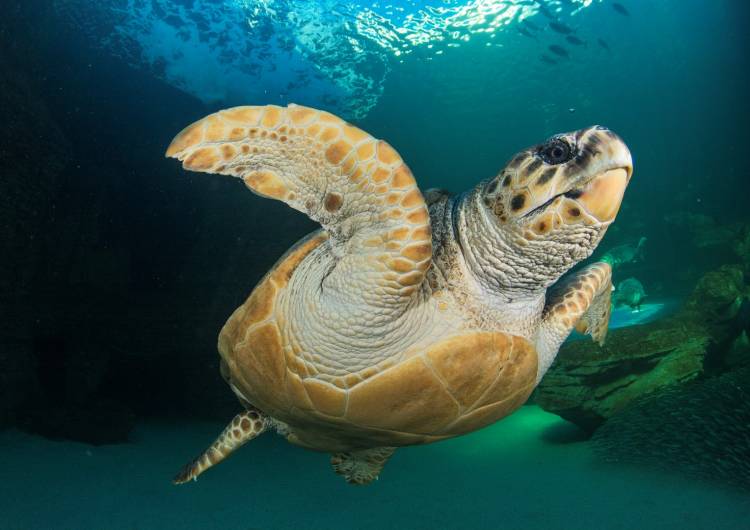 Released: 16 December 2017
Rescued: 1997
Species: Loggerhead turtle
Yoshi the loggerhead turtle was an icon of the Two Oceans Aquarium. After she was rescued as a small, injured 2kg hatchling by a trawler and handed over to the aquarium, she was nursed there and after 2 decades of research, care and preparation she was released into the ocean weighing impressive 180kg.
She was one of the first animals to be rescued by the Two Oceans Aquarium. With Yoshi the keepers gained a lot of experience and confidence caring for turtles, she basically paved the way for many more rescued turtles.
---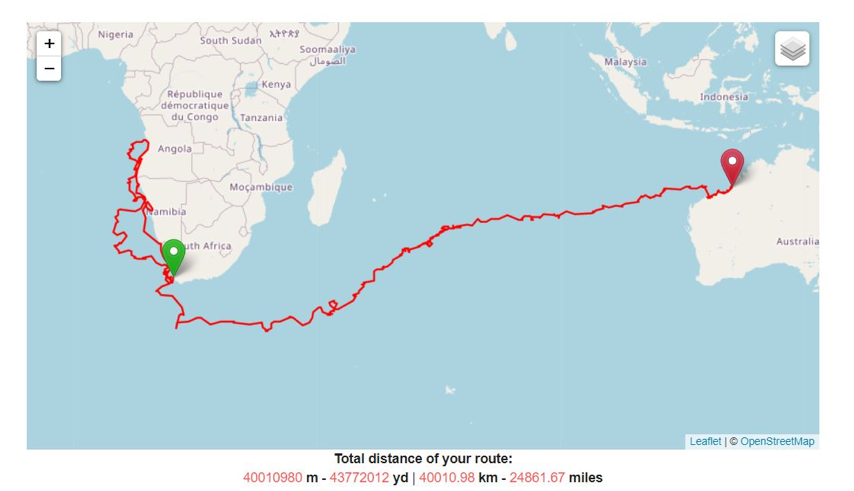 Status Update 31 August 2020

Within 982 days after being release Yoshi covered 40.011 km (46,5km per day for 730 days, now down to 12km per day).
She started out exploring the African west coast, then made a detour to the South African underwater mountain range. By the end of February 2020 she reached what seems to be her homeland Australias West Coast. She caused australian scientists trying to retag her to discover a forage site with more than 40 loggerhead sea turtles. However Yoshi did not surface.
Since April 2020 she's relaxing in proximity of the North Western Australian coast. She's the first record of a turtle moving between South Africa and Australia.
Pemba
Released: 8 March 2018
Rescued: December 2014
Species: Olive Ridley Turtle
Pemba was found in the port of Table Bay, with a broken shell and a torn lung caused by a boating accident.
She was operated and as soon as her tank healed, Pemba was transferred to the uShaka Sea World for further treatment due to buoyancy difficulties. She was finally released into the wild at iSimangaliso Wetland Park by Two Oceans Aquarium and uShaka Sea World.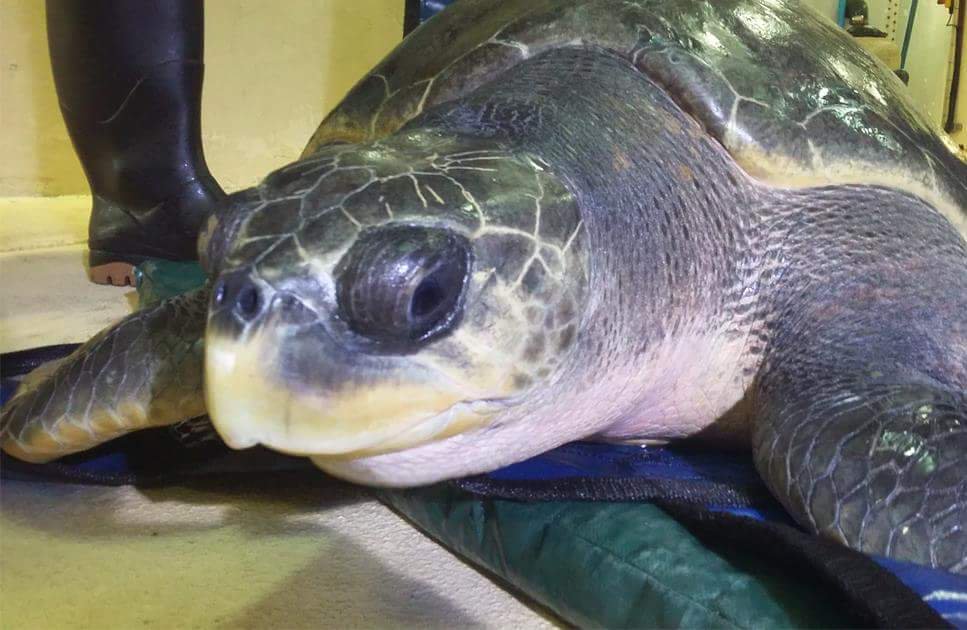 Status update 6 May 2019
Pemba covered 16,664 km in 424 days (39 km per day) before the batteries in her transmitter died. We can assume that she continues being fit and healthy, because no speed drop was registered.
The first few months she seemed to be following Yoshi and also travelled north along the African west coast. Then she apparently decided to cross the Atlantic and swam westwards for a long time, but has been heading north again for a few months now.
We wish Pemba all the best on her journey, may she live a healthy long life.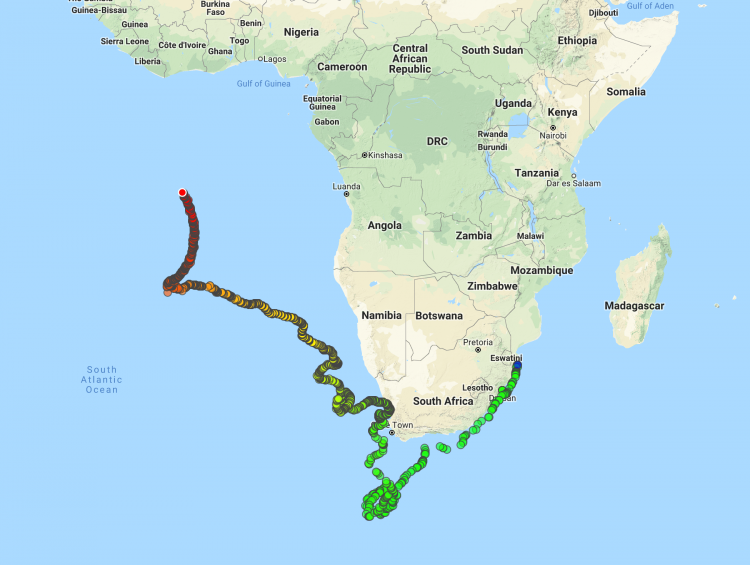 Nocawe "Noci"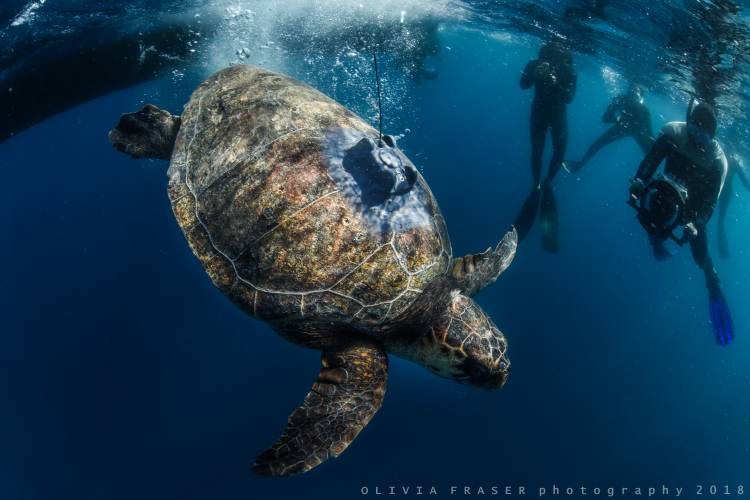 Released: 20 December 2018
Rescued: 29 April 2018
Species: Loggerhead Sea Turtle
Nocawe (or Noci) became the first rescued male loggerhead sea turtle after he was washed ashore near Witsand weighing 64,7kg. No external injuries were visible, but he was covered with barnacles, which suggests that he was floating around for a long time. He was treated for an infection that could be due to the plastic garbage in his stomach. In December when he was well again he was released back into the ocean.
---
Status update 24 December 2019

Noci covered 17.000km in 369 days (46km per day) He first did a lap along the west coast, maybe even met Yoshi and then left to explore various seamounts in the South Atlantic. He was recorded diving up to 130 meters, surprisingly deep for a turtle. By his tracks we could see that he was just exploring without having a set destination. Unfortunatelly the batteries on his tag seemed to have run out as it is not longer transmitting. Nocis behaviour seemed normal and healthy all the way until the transmission ended.
We wish Noci all the best!
Sandy
Released: 20 December 2018
Rescued: 22 September 2016
Species: Green sea turtle
Sandy was found in a horrible condition on a beach near Witsand. She had 5 large, gaping wounds in her tank that exposed her lungs. Because she had been lying on the beach for a long time and had sand in every crevice, she was called Sandy.
Her deep wounds probably came from a boat propeller. They had to be cleaned daily so that her tank could start its slow healing process.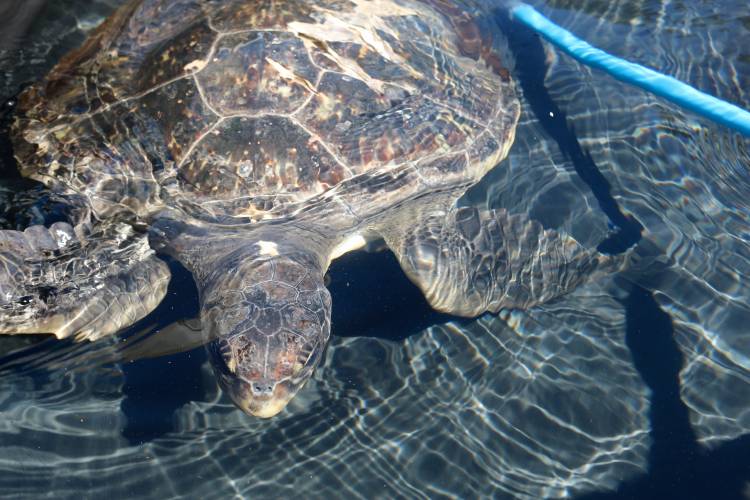 ---
Status update 12 June 2019
Sandy covered 2.303km within 174 days (13km per day).
After her release she spent a lot of time between the popular surf spots Elands Bay and Lamberts Bay and relaxed a lot along the coast. Recently she decided to continue exploring further north along the west coast. While she continues swimming in rather cold waters for turtles and quite close to the coast, fisheries and the National Sea Research Institute continue looking out for her to avoid her washing ashore again.
Unfortunately her tracker stopped transmitting on the 12 June. However judging by her previously collected data we can assume she's still healthy and exploring the shore but the transmitter stopped working.
We wish Sandy all the best!